Digital Media Options Cheatsheet
Review your use of the latest digital and social media options for promoting your business
Are you confused by the number of options for using social and digital media to grow awareness for your business? It's not surprising since there is now a bewildering choice of paid, owned and earned media options. All the main digital media platforms like Google, Facebook, Twitter, LinkedIn, YouTube and Pinterest all have their own options for sharing content organically and paying for distribution.  What's more, there are new options every month as these mega brands look to introduce new features to boost their revenue models.
The sheer number of organic and paid media options and updates makes it difficult to know whether you're missing out on the best targeting options and whether your marketing budget could be better spent.
Our Digital media cheat sheet is aimed at helping Smart Insights Expert members to keep track of the free and paid media options so that they're not missing out on any of the latest developments.
We track all the changes made each week to identify the most important ones that every 'hands-on' marketer needs to be aware of to test the latest approach to improve marketing for their business.
This guide to the digital media features a section for each of the main social networks and Google covering:
The name of the all the main organic and paid media options for promoting businesses on each of the main social networks and within Google (SEO and AdWords)
A summary of its purpose, e.g. what content formats and targeting it offers
The date it was first launched
Current rollout to different types of business and countries
Links to relevant help sections to find out more and get started using the feature
Which platforms does the cheatsheet cover?
The template has separate sections showing the latest updates across these vital digital marketing platforms:
1. Google: SEO and AdWords
2. Google+
3. YouTube
4. Facebook (organic and paid options)
5. Instagram
6. Twitter (organic and paid options)
7. LinkedIn (organic and paid options)
8. Pinterest
Resource Details
Authors: Social Media Consultant, Rhian Harris, Dave Chaffey, and Rob Allen, Smart Insights
Last updated: Updated each month, covering all changes from 2015-2016
Format: Excel spreadsheet with a row for each significant update to the 8 main digital marketing platforms with links through to the details you need to know and room for notes reviewing your options and experiences
Individual
Business
Individual or Business members get full access to this and 6 other guides in the Paid media Toolkit.
Learn more about membership
Already an Individual or Business member?
Login here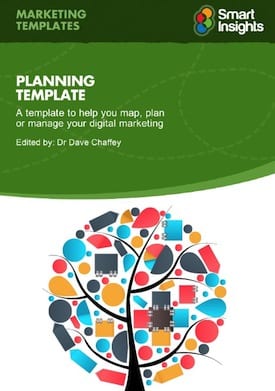 Look Inside